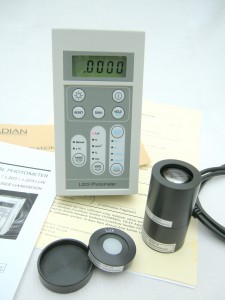 L203 Illuminance & Luminance Photometer
The L203 photometer is supplied with accessories for both luminance and/or illuminance measurements.
With the large measurement range of 0.0001 to 199 990 the photometer is suited for many applications including emergency / escape route lighting and other low light applications.
Key features include auto or manual ranging, backlight LCD display, switching between lux and footcandle or cd/m² and footLambert, computer interface, averaging and integration, maximum and minimum values.
This meter is supplied with a handbook, traceable calibration certificate, hard carry case, spare battery, blanking cap as standard with an optional USB / RS232 communications cable.