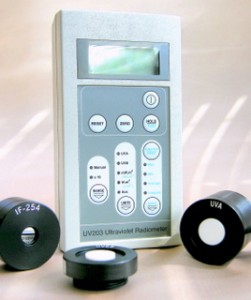 UV203 Ultraviolet Radiometer
The versatile UV203 ultra-violet radiometer has a laboratory detector with up to three interchangeable filter rings covering selected bands of the ultra-violet spectrum.
The microprocessor control within the display unit features auto or manual ranging, RS232 communication to a PC and special functions for integrating the signal or recording the maximum, minimum and average signals.
The laboratory detector has an integral multiple gain range amplifier with signal digitising providing high sensitivity and low noise measurements.