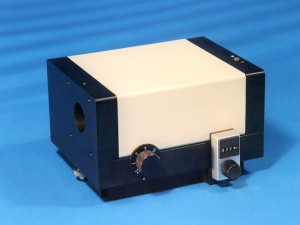 MCG910 Series
Monochromators using high efficiency diffraction gratings are found in many applications including the spectrophotometer and spectroradiometer. This series of monochromators have been designed and manufactured with a range of concave gratings to meet the demands of high precision spectral radiometry.
All monochromators have multi-position entrance and exit slits for a choice of output bandwidths. Grating motor control and drive electronics with PC software allow automation for routine spectral measurements.
These 100mm focal length monochromators are available with 1200, 900 or 600 grooves/mm holographic diffraction gratings for the ultra violet, visible and near infrared spectrum.
Eight position entrance and exit slit disks control the monochromator bandwidth.
All the monochromators have optional stepper motor wavelength drives, detectors, light sources, light guides, order sorting filters, integrating spheres and sample holders.
Model:
Spectral Range:
Dispersion:
MCG910
200 - 800nm
8nm/mm
MCG911
300 - 1200nm
12nm/mm
MCG912
400 - 1600nm
16nm/mm
Please contact Irradian for further details.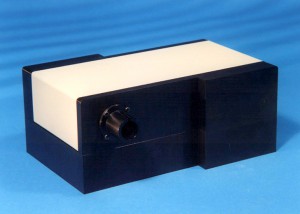 MCG990 Double Monochromator
The dramatic reduction in the stray light levels of a double monochromator compared to that of a single monochromator make it an essential tool in demanding spectral measurements.
The MCG990 is a compact 100mm focal length monochromator with two concave holographic gratings, covering the spectral range 200 - 800nm.
The monochromator can be supplied with a stepper motor and drive for PC or remote control, internal filter wheel and drive for shuttering and order sorting.
A range of accessories is available including cooled photo multiplier detectors, silicon detectors, light guides, arc lamp sources and integrating spheres.
Please contact Irradian for further details.