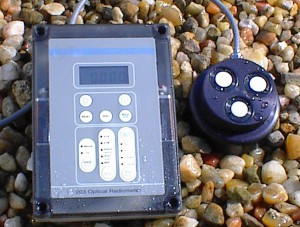 UV203/3 Underwater Ultraviolet Radiometer
The underwater UV203/3 ultra-violet radiometer has a detector head housing up to three photodiode detector, filter glass and cosine diffuser packages,covering selected bands of the spectrum. The standard ranges offered are UVA, UVB and a flat, photometric-range response (RFF-Vis), but other responses are also available on request.
The microprocessor control within the display unit features auto or manual ranging, RS232 communication with a PC and special functions for integrating the signal or recording the maximum, minimum and average signals.
Each separate detector has an integral, multiple-gain-range transimpedance amplifier with signal digitising, providing high sensitivity and low noise measurements.
Further key designs features include;
- Fully submersible detector head up to 10 metres.
- Cosine response with individual diode/filter combinations.
- Aluminium body with resistant anodising.
- High stability silicon photodiodes.
Please contact Irradian for further details.
UV203/3 Brochure